The flights have been long and intense, arrived in Amsterdam around 10h40am then boarded a plane to Moscow from there at 12h30 & landed in Moscow around 6pm Moscow time (South Africa is 1 hour behind).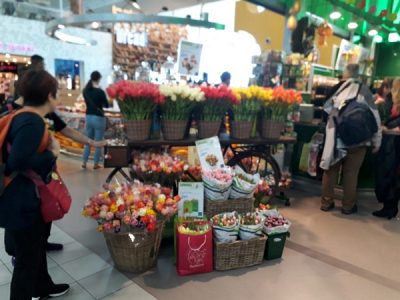 Met up with the group, Max, Erica, Henrietta, Leon etc. We are 19 in total here at the Sheremetyevo airport in Moscow, now we just boarded a bus for a 3-and-a-half-hour bus ride into the country side….travel…travel…. travel …. the highways at this hour in Moscow are like peak hour traffic in Jhb! It's crazy!!! I can't believe it, it's now 9pm at night. A new experience for sure!!
Started course on the 6th April, it is, the CORRECT OEC 6 TRAINING course in Moscow arrange by Ron's Org Grenchen Switzerland. This special course is about 300 pages long. The Course will include False Data Stripping and is a MANUAL OF IMPORTANCE in Distribution.
Tuesday 9th April 2019
Hi friends!
It's been a whirlwind… but the 1st day of study was amazing. So many realizations already. 1st thing I learned, Book income – HCO PL 7 April AD 15 – BOOK INCOME – wow! we need to get books into the hands of our public! Then they 'hear' directly from Ron 'what is Scientology?' it separates the able ones & they reach…. that is the public we want on our lines! 
Next thing I learned- HCO Executive letter of 21 March 1965 – PE COMES AFTER THEY HAVE READ A BOOK .
Again! just really wow! that is the right way to create a BOOM! 
Getting ready now for today, will catch up later. This group dynamic & study is amazing!
ML, Tanya xx 😘
More soon
ML
Tanya
10th April 19
Hi friends, wow! what a day! The following is from HOW TO CREATE AND INSTRUCT A PE COURSE (PART II)
"You're the single most vital civilizing influence in earth today. If you don't tell people this, if you don't conduct yourself accordingly as a public service with greater level of authority given to you by your command of knowledge of life, what you are and what you're doing, then you'll keep playing along in the bush league. You establish by your own postulate the size and importance of your own activity."
Ain't that the truth guys! ….. then the HCO bulletin of 28 April 1960 – BOOKS ARE DISSEMINATION – Read it! familiarize yourself with it. WE NEED TO GET BOOKS IN THE HANDS OF OUR PUBLIC! 
Excerpt " If you think you can interest a person in Scientology and yet avoid your responsibility in getting him or her to read books on the subject, you are wasting a tremendous amount of effort." 
There is so much more to share with you, but time is few.
Much love, Tanya
20 April 2019
Hallo friends!
The camp has ended! This has been such a wonderful experience to be able to be part of this wonderful 3rd dynamic group! 
There were around 120 people attending from all over the world.  All doing different courses & auditing. Our little group within this group was known as the OEC 6 group.
We were made up from some Germans, Russians, Swiss, Americans, Mexicans, 1 x Greek, 1x Argentinian & of course, 1x South African! 
Our schedule was intense starting at 9am and ending at 10pm with a muster afterwards.  
We would have daily discussions during one of the study units in the morning, which was very valuable as here we would exchange experiences & ideas & we even got to drill practicals during this time. All of course with the help of with our wonderful translator, Olyek.
The information we learned was great & basically the importance of books has been reiterated. We are all fired up to return to our respective groups around the world & start implementing this knowledge. I have no doubt that our Div 6 field will be growing around all the corners of the world.
I got the opportunity to make some great friendships here.
I also got to meet Slava, the genius behind the imeter, what a nice guy! 
Furthermore, I want to say a HUGE thank you to Tracy, Ernest & Gaye, Kim & Mervyn, all my team members at PAC and my beautiful family for supporting me through this. It has been truly wonderful! You guys ROCK! 
See you all soon, back home! 
Much love,  
Tanya xxx